All of the books and products listed below are from C&T Publishing of which I am an affiliate.  If you go to C&T's website from here and buy anything (either the books listed below or any other C&T product), I get a tiny commission–for which I thank you.
The Wonderful Colorful Wonder Wheel of Color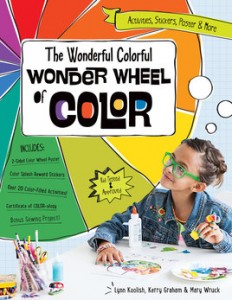 By Lynn Koolish, Kerry Graham & Mary Wruck
Explore the wonderful world of color! The Wonderful Colorful Wonder Wheel of Color will show you how to pick, use, and mix colors. You'll have lots of fun learning with more than 20 color activities, worksheets, stickers, quizzes, and games. You'll be a color expert in no time!
• Includes fun activities to experiment with color
• Shows you how to make colorful crafty clothes, accessories, and décor
• Includes an 11″ x 17″ 2-sided color wheel pullout poster, 16 activity sheet pullouts, sticker sheet, Certificate of COLOR-ology, and bonus sewing project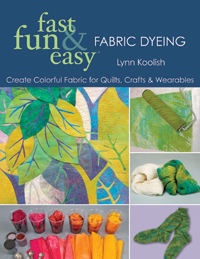 ---
Fast, Fun & Easy (c) Fabric Dyeing
By Lynn Koolish
Learn to Dye Fabric the Quick and Easy Way
12 can't-miss techniques for adding custom color to fabric, clothing, linens, and household goods

Fast! Lynn teaches you the techniques that produce rich results with minimal time and effort

Fun! Learn to create lots of exciting color blends, patterns, and textures
Easy! All you need to get started is this book, a few supplies, a measuring spoon, and some plastic containers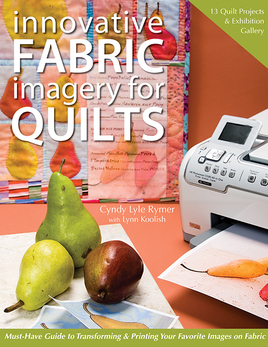 ---
Innovative Fabric Imagery For Quilts
By Cyndy Rymer & Lynn Koolish
Includes 13 Quilt Projects & Exhibition Gallery
• 13 innovative projects with step-by-step instructions and inspiring digital techniques
• Getting-started chapter on equipment, supplies, printing on fabric, and image-editing software
This book is filled with inspiration for fabric artists, from projects that show step by step how to make art quilts using your own photos and images, to galleries of stunning art made by some of today's most innovative quilters. Have fun creating artistic effects with image-editing software such as Photoshop® Elements and Kaleidoscope Kreator 2, then printing your images on fabric and turning them into fabulous quilts.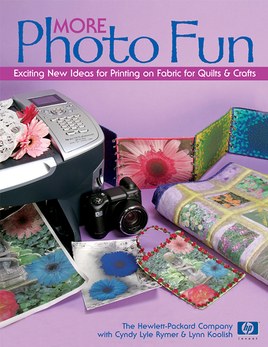 ---
By the Hewlett Packard Company with Cyndy Rymer & Lynn Koolish
Create Extraordinary Images on Fabric from Your Computer Printer
• Use easy-to-learn photo effects to jazz up your quilts and crafts
• Step-by-step recipes for creating interesting effects to print on fabric using your digital camera, scanner, printer, and/or computer.
• Make the most of your photos
Resize, repeat, or reflect
Add, remove, or change colors
Make kaleidoscopes, tiled images, and mosaics
Add texture and stitching
• Make unique fabric with painterly effects by using 3-D objects
• Use with any brand of inkjet printer or scanner