The Black Squirrel, Berkeley, CA June 16
Fiber Art Collage
Paint a variety of surfaces and fibers including silk (fabric, roving, rods, cocoons), Lutradur, fast2fuse / Timtex, Shapeflex, Spundbond, mul•tex, and kraft•tex paper/fiber. Learn about the different materials and take advantage of their unique textures, then use them to create a fiber collage.
All materials and supplies included in the class fee .
The Black Squirrel, Berkeley, CA June 16
Quilters Affair, Sisters, OR July 9 – 13, 2018
Fabric Dyeing: Shibori
Shibori is a method of dyeing fabric based on traditional Japanese resist techniques. Explore various methods including pole-wrapping, clamping, folding, twisting, and stitching to create complex and dynamic fabric.
All Levels, No previous dyeing experience required. Supply fee may be required.
Quilters Affair, Sisters, OR July 9 – 10, 2018
---
All About Fabric Dyeing and Color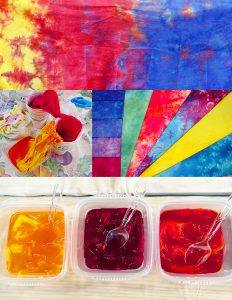 Play with color and learn about color mixing, blending, and how colors relate and influence each other. You'll come away with a better understanding of color and a stack of your own hand-dyed fabrics you can use for any of your quiltmaking projects. Beginner friendly / No experience needed. If you have dyed fabric before, this class will expand your knowledge of working with Procion dyes.
Note: This class can also be used to finish work started in the Shibori Dyeing class (Monday & Tuesday) or to prepare fabric for Fabric Dyeing for Color, Pattern, and Texture class (Thursday & Friday) or other classes you are taking.
Quilters Affair, Sisters, OR July 11, 2018
---
Fabric Dyeing: Color, Pattern & Texture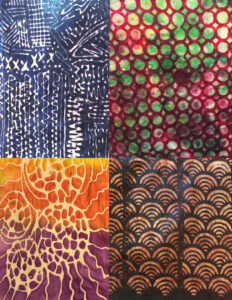 Create unique and dynamic fabric using fiber-reactive dyes and a variety of techniques including easy to wash out resists such as soy wax, flour paste, gel glue, oatmeal, and more. These resists are easy to use, wash out with hot water, and provide an endless array of patterns and textures. You'll have two days to dye, over-dye, and play with an infinite variety of colors, textures, and patterns.
Quilters Affair, sisters, OR July 12 – 13, 2018
---
Coming Soon –
Classes scheduled for:
International Quilt Festival, Houston, TX   November 5-8