Hello Stitch January 21, 2018
Make the 3-in-1 Betsy Bag
Make the best tote bag ever — the 3-in-1 Betsy Bag! You get three different looks from the same bag. With clever construction, movable straps, and a tuck-away top panel, use it as you need it: a large carry-all, a mid-sized drawstring bag, or a sleeker, smaller tote. Zip up your phone or keys in the secure outside pocket and organize other essentials in interior compartments. Made from cotton fabric and durable, easy to sew, leather-like kraft•tex.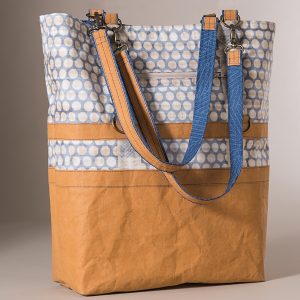 Sunday, January 21, 2018, Hello Stitch, Berkeley
---
Hello Stitch February 3, 2018
Mixed Media Fiber Explorations
Your next creative discovery is right here! With Mixed Media Fiber Explorations, you can add a new element to any sewing or fiber project—quilts, fiber art, mixed-media, garments, you name it. Learn about alternative fibers such as Lutradur, mul-tex, Spundbond, silk cocoons, rods, roving, and more. Have fun exploring with paints and color, then use the painted fibers to make collages that can be used as art, embellishments for gifts, or even as the gift itself. You can even make jewelry! As a bonus, the materials come in a canvas messenger bag to embellish and use.
Saturday, February 3, 2018 Hello Stitch, Berkeley
---
 Coming Soon: AQS Quilt Week, Paducah, KY April 18 – 21, 2-18
Surface & Fiber Experiments: Paint, Quilt, Stitch & Embellish, April 18, 2018
Fabric Painting: surface Design Play Day!, April 19, 2018
Color, Texture & Translucency for Fiber Collage, April 20, 2018
Painting on Fabric: Palette Knives & Monoprinting, April 21, 2018
---
Quilters Affair, Sisters, OR July 9 – 13, 2018
Fabric Dyeing: Shibori
Shibori is a method of dyeing fabric based on traditional Japanese resist techniques. Explore various methods including pole-wrapping, clamping, folding, twisting, and stitching to create complex and dynamic fabric.
All Levels, No previous dyeing experience required. Supply fee may be required.
Quilters Affair, Sisters, OR July 9 – 10, 2018
---
All About Fabric Dyeing and Color
Play with color and learn about color mixing, blending, and how colors relate and influence each other. You'll come away with a better understanding of color and a stack of your own hand-dyed fabrics you can use for any of your quiltmaking projects. Beginner friendly / No experience needed. If you have dyed fabric before, this class will expand your knowledge of working with Procion dyes.
Note: This class can also be used to finish work started in the Shibori Dyeing class (Monday & Tuesday) or to prepare fabric for Fabric Dyeing for Color, Pattern, and Texture class (Thursday & Friday) or other classes you are taking.
Quilters Affair, Sisters, OR July 11, 2018
---
Fabric Dyeing: Color, Pattern & Texture
Create unique and dynamic fabric using fiber-reactive dyes and a variety of techniques including easy to wash out resists such as soy wax, flour paste, gel glue, oatmeal, and more. These resists are easy to use, wash out with hot water, and provide an endless array of patterns and textures. You'll have two days to dye, over-dye, and play with an infinite variety of colors, textures, and patterns.
Quilters Affair, sisters, OR July 12 – 13, 2018
---